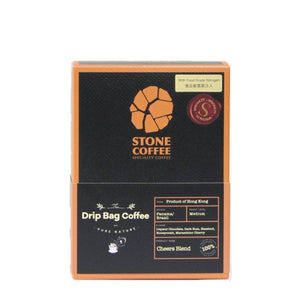 STONE COFFEE Drip Bag Coffee - Cheers Blend
Cheers Blend - Medium Roast
Double the enjoyment with one cup of coffee! Coffee can also give you the pleasure of wine tasting!?  Cheers Blend's nose is very powerful and flowery, creating a lasting aftertaste with winey and nutty flavors.
Flavor:
Liqueur Chocolate , Dark Rum, Hazelnut, Honeycomb, Maraschino Cherry
Altitude:
Panama 1200-1550 m.a.s.l.; Brazil 800-1100 m.a.s.l.
Process:
Panama Hot Anaerobic; Brazil Natural
Packing:
10g x 4 Bags
We are 100% committed to our coffee's quality and freshness.
Available on